Podcast: Play in new window | Download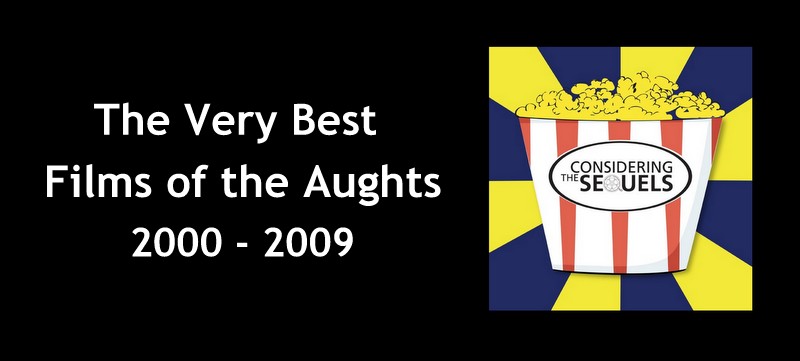 Brought to you by Movie Podcast Network and sponsored by Movie Podcast Weekly, we proudly present Special Features Episode 014, a reissue of the Considering the Sequels podcast's "Very Best Films of the Aughts," a bonus episode that celebrates the best cinema of the years 2000 through 2009.
We wanted those who have not yet subscribed to our Movie Podcast Network Special Features feed to have a little taste of the kind of off-beat but entertaining content you get through becoming a patron for the low, low price of just $2.50 per month.
Jason, Andy and Karl's very first podcast was Considering the Sequels (or CTS Podcast), launched in June 2010. (Ryan wasn't born yet.) Typically, we would review movie franchises and determine whether the primary film's sequels were deemed as "cinematic dead-horse beating." But we sometimes released special episodes, like The Very Best Films of the Aughts, which was recorded on November 28, 2010 — the day Leslie Nielsen died.
This episode is noteworthy for a number of reasons: First, we were actually somewhat sheepish and polite to one another back then. Also, believe it or not, Andy actually makes an effort and prepares a real list and takes the episode seriously! Andy also records this show in the midst of a snowy, family road trip while lodging at some lonely hotel in Colby, Kansas, where the population at that time was 5,387.
You can also hear Andy podcast with one of his foremost nemeses, filmmaker Andrew James, co-director of "Cleanflix" (2009) and writer-director of "Street Fighting Men" (2017). And though he couldn't attend this recording, we still read the prepared list of documentary filmmaker Torben Bernhard, who provided his Best Foreign Films of the Aughts list! And by the way, this show also provides our picks for the single best film of the entire decade! So, you get a nice sampling of somewhere around 50 of the most notable films of the Aughts. We also discuss Roger Ebert's overview and picks for the 2000s.
Please pardon the audio quality. This was early in our podcasting career, so we didn't have our sound dialed in. Nor did we follow all the proper podcasting etiquette, such as not speaking too close to the mic.
Note about Jason (aka "Jay of the Dead"): Since Jay loves all genres of cinema, and this exercise required the hosts to choose a No. 1 film for each year (and for the decade), you will notice a surprising and perhaps shameful absence of any Horror cinema representation in Jay's picks… But this is simply due to the fact that each year during the Aughts, Jay's No. 1 film of the year simply wasn't a Horror film. Rest assured, Horror Movie Podcast will be providing its Best Horror Films of the Aughts episode!
So, without further delay, here is the Considering the Sequels Podcast's "Very Best Films of the Aughts," 2000 through 2009. Enjoy! And thank you for supporting the Movie Podcast Network.
---
Movie Podcast Network has several other movie-related shows that are free which we think you'll enjoy:
Considering the Cinema – A short-form solocast about movie news, film theory, movie trivia, cinema history and film criticism.
Movie Moments Podcast – A short-form podcast where two people each choose a moment to discuss from the same movie.
Geek Cast Live Podcast – where they geek harder than anyone else on geek movies and all things pertaining to geekdom.
Movie Stream Cast – where they help you manage your queues by reviewing films that are streaming online.
The Sci-Fi Podcast – the ultimate movie podcast for science fiction fans.
Retro Movie Geek – where they overdose on nostalgia by reviewing movies that are 20 years old or older.
Horror Movie Podcast – where we're Dead Serious About Horror Movies.
Universal Monsters Cast – where we review Universal monsters films, classic and current.
Movie Podcast Weekly – where we review at least one new movie that's in theaters each week.
We Deal in Lead – A podcast about Westerns, and the rootin'-ist, tootin'-ist movie genre show you've ever heard!
Kyle and Kris Are Pitchmen – Two dudes talk about ideas for movies.