Podcast: Play in new window | Download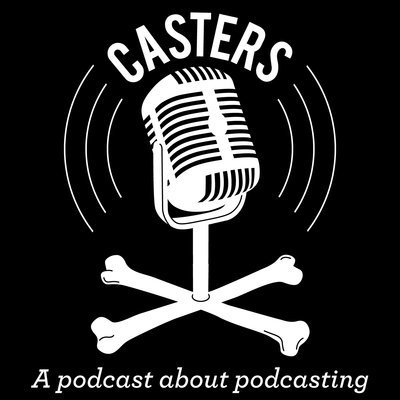 This is Episode 001, Part 1 of 2, of Casters: A Podcast About Podcasting with special guest Jason Pyles. If you're new to podcasting, Casters: A Podcast About Podcasting will help anyone who has ever wanted to start their own podcast quickly become familiar with all the ins and outs of 101 podcasting. William Rowan Jr. and Jason Pyles have many years of podcasting experience between them, and they have an in-depth discussion on the basic elements of podcasting and what you need to be aware of and think about before you hit the record button.
In this episode, William and Jason cover the concept and the hook of your podcast, knowing your audience, co-hosts and how important it is to be flexible with them and your podcast, the naming of your podcast, we declare what the most important thing you should do before you do any other step, advertising, formatting segments and intro/outros, the duration, and the need for a consistent release schedule of your podcast. So sit back and enjoy the most comedic yet very informative podcast about podcasting you have ever heard.
---
SHOW NOTES:
Introduction
— Meet the hosts (William Rowan Jr. and the special guest host, Jason Pyles).
[00:10:40] What this podcast is all about and the backstory behind it.
[00:16:00] Getting to know Jason Pyles better and his podcast history.
---
[00:45:20] We begin the discussion of the basic starting points of podcasting 101.
[00:50:00] The CONCEPT of your podcast.
[00:52:00] The HOOK of your podcast.
[1:14:44] KNOW YOUR AUDIENCE. What do you want them to take away from your podcast?
---
[1:17:25] Pre-talk about co-hosts and how important it is to be flexible with them and your podcast.
---
[1:24:40] The NAMING of your podcast.
[1:42:00] THE MOST IMPORTANT PRE-STEP OF 101 PODCASTING! Listen to lots of podcasts, "take notes, and pay attention to the things you like and the things you don't like, and make sure you're not doing the things that annoy you as a listener, and incorporate the things that you love as a listener."
---
[1:43:20] Pre-talk about ADVERTISING on your podcast.
[1:50:25] The FORMATTING (Segments & Intro / Outros) of your podcast.
[2:11:05] The DURATION and CONSISTENT RELEASE SCHEDULE of your podcast.
---
[2:24:47] The Wrap-Up:
---
MUSIC BY:
8 Valses poeticos – 8. Presto (Guitar arr. By Edson Lopes)
GRAPHIC DESIGN BY: SHARON (BARTLETT) ROWAN
LINKS AND SITES CITED IN THIS EPISODE:
GEEK CAST LIVE PODCAST
HORROR MOVIE PODCAST
MOVIE PODCAST WEEKLY
MOVIE STREAM CAST
RETRO MOVIE GEEK
THE SCI-FI PODCAST
UNIVERSAL MONSTERS CAST
THE TRADERS PODCAST WITH ROB BOOKER
– STAR WARS MINUTE: Empire Minute 1: A Dark Time for the Rebellion
– Me First & The Gimme Gimmies: ARE A DRAG, Science Fiction Double Feature
– Bright Planning Marketing Podcast – Weekly Marketing Strategies: 45: Marketing Today: What's Hot or Not Part 1
– Harry Potter And The Half-Blood Prince: J.K. ROWLING, AUDIO BOOK, Chapter 23c ~ Horcruxes – PERFORMED BY JIM DALE
– HOW DID THIS GET MADE? – 74 Halloween III: Season of the Witch
– Podcast Answer Man – 188 – Why I Still Podcast After Five Years
– 801 Underground – EP.001
– Adam Carolla Show: ACS: Adam, Gina and Bryan
– Baghead: Dir. Jay & Mark Duplass. Sony Classics, (2006).
– FilmCatcher: Baghead interview: Mark & Jay Duplass
– BANDSLAM (why are you talking like that): Dir. Todd Graff. Summit Entertainment, (2009).
– THE WICKER MAN: Dir Neil LaBute. Warner Bros, (2006).
– Billy Madison: Dir. Tamra Davis. Universal Pictures, (1995).
– Considering the Sequels Podcast Ep. 18 – Indiana Jones
– Despicable Me: Dir. Pierre Coffin & Chris Renaud. Universal Pictures, (2010).
– Downton Abbey Season 1 – Trailer
– Downton Abbey Season 2; Lavinia at Dinner: Creator Julian Fellowes. Carnival Film & Television and Masterpiece Theater, (2011).
– Elf, Dinner Scene (spaghetti w syrup and pop belch): Dir. Jon Favreau. New Line Cinema, (2003).
– Film Junk Podcast – Episode 497: The Interview and The Theory of Everything
– Ferris Bueller's Day Off: David Cameron is so tight: Dir. John Hughes. Paramount Pictures, (1986).
– The Empire Strikes Back "Laugh It Up, Fuzzball": Dir. Irvin Kershner. Lucasfilm, (1980).
– Hook, "looky looky I got hooky" and hook chant: Dir. Steven Spielberg. Amblin Entertainment, (1991).
– Stuff You Should Know: How Shark Attacks Work: HowStuffWorks.com; Nostradamus: Predictor of the future? Not so much.
– Sesame Street, How to say Nope Nope, Yip Yip Martians: Stars Jim Henson, Frank Oz, Caroll Spinney. Children's Television Workshop, Curious Pictures, and Sesame Workshop, (1969 – ).
– The Critic, "If the Movie stinks… Just dont go!": Creators Al Jean, Mike Reiss. Columbia Pictures Television, Film Roman Productions, Gracie Films (1994-1995).
– A League of Their Own: Dir. Penny Marshall. Columbia Pictures Corporation, (1992).
– The Joe Rogan Experience: #990 – Jamie Foxx
– Learn How To Podcast: Part 1 of 8 – Podcasting Video Tutorial Series with The Podcast Answer Man Cliff Ravenscraft
– The Lease Smart Commercial Real Estate Podcast – 55 – Need a "Bad Cop" on Your Side? Being too Nice is Expensive!
– Let's all go to the lobby
– Monty Python's Life of Brian "Loretta": Dir. Terry Jones. HandMade Films & Python (Monty) Pictures (1979).
– National Lampoons Vacation "This is Crazy This is Crazy This is Crazy": Dir. Harold Ramis. Warner Bros, (1983).
– Office Space: Dir. Mike Judge. Twentieth Century Fox Film Corporation, (1999).
– The Pen Addict: The Pen Addict #1: Glossary
– Read Along Sound Effect
– The Resurrection of Zombie 7 Podcast – JAWS
– Shut Your Mouth When You Are Eating – Michael Rosen
– Success in Business Podcast: Ep. 001: The Need for Capital
– The /Filmcast: Ep. 425 – Baby Driver
– SModcast – SModcast.com – SModcast 218: The Dark Knight Redux
– Star Trek TNG, Opening Theme: Creator Gene Roddenberry. Paramount Television, (1987-1994).
– Monty Python's Flying Circus, And Now for Something Completely Different, "Stop That. It's Silly": Dir. Ian MacNaughton. Columbia Pictures Corporation, (1971).
– The Critic, Home Alone 5 and "It stinks": Creators Al Jean, Mike Reiss. Columbia Pictures Television, Film Roman Productions, Gracie Films (1994-1995).
– The Documentary Blog Podcast Episode #1: (Guest: Jeff Feuerzeig, Director of The Devil and Daniel Johnston)
– The Songwriting Podcast: Ep. 1 – DAVE EATON: Personal vs. Commercial Songwriting
– Train Your Brain Podcast – Ep. 001 – What Is Brain Training?
– Last Action Hero, "WHO THE HELL ARE YOU": Dir. John McTiernan. Columbia Pictures Corporation, (1993).
– WTF with Marc Maron Podcast: Episode 786 – Will Arnett
– We now return you to your regularly scheduled podcast TEST
– First Mountain Dew Soda TV Commercial HillBilly
– THE OFFICE, Season 4, Episode 5: Creators – Greg Daniels, Ricky Gervais, Stephen Merchant, Dir. Jason Reitman. Deedle-Dee Productions, Reveille Productions, Universal Media Studios, (2007).
STAY TUNED FOR PART 2 OF CASTERS: A PODCAST ABOUT PODCASTING… COMING SOON!
---
More about William Rowan Jr:
William Rowan Jr. has lived in Utah for the past 26 years, the last 15 of which have been professionally working in the local independent film industry. He also has a degree from Utah Valley University in Cinema Production.
He not only specializes in micro-budget filmmaking, but also in bringing together creative artists with eager investors to make successful projects. He has produced / written / filmed / directed music videos, reality TV sizzle reels, documentaries, narratives, and original screenplays. He prides himself on staying within budget, on schedule, and with working with the best and brightest. He's a true right-brain plus left-brain person.
William is a permanent co-host of THE SCI-FI PODCAST, which focuses on in-depth discussion of all things Science Fiction. Each episode they look at a science fiction theme or franchise and take it where no show has gone before!
​
William is a frequent guest on MOVIE PODCAST WEEKLY, which is a weekly movie review podcast where a Film Critic, an Actor, a Geek, and a guy named Andy review at least one new release that's currently in theaters every single Tuesday by 8 a.m. Eastern time.
William is a rotating co-host of MOVIE STREAM CAST, which is a weekly film podcast covering streaming content that helps you manage your queues by telling you to "stream it," "queue it," or "skip it."
William is an occasional guest on HORROR MOVIE PODCAST, a bi-weekly horror movie review podcast that releases every other Friday. Hosted by Jay of the Dead, Wolfman Josh Ligairi, Dr. Shock and Dr. Walking Dead himself, Kyle Bishop.
William is also the host of the Movie Moments Podcast, which is a short form Podcast, where the host and typically one guest, will separately choose their favorite and/or personal meaningful moment from the same previously agreed-upon movie, and then discuss why that moment means so much to them. It's also a chance for me (and the listening audience) to get to know the guest better on a more personal level. COMING SOON!
CONTACT INFO for William Rowan Jr:
Galano Productions:
galanoproductions@gmail.com
galanoproductions.wixsite.com/william
IMDb: William Rowan Jr.
CONTACT INFO for Joshua Ligairi:
Twitter: @IcarusArts
Josh covers streaming movies on: Movie Stream Cast
Hear Josh on The SciFi Podcast
Hear Josh on Horror Movie Podcast
INFO for Movie Podcast Weekly:
E-mail us: MoviePodcastWeekly@gmail.com.
Leave us a voicemail: (801) 382-8789.
Follow MPW on Twitter: @MovieCastWeekly
Leave a comment in the show notes for this episode.
Add MPW to your Stitcher playlist: Stitcher.com
MPW on iTunes
MPW's RSS feed
Right-click to download the MPW 100 Rap
MOVIE PODCAST NETWORK INFO:
Movie Podcast Network is a group of movie-related audio podcasts whose individual shows are all available for free. This Network has a Special Features Subscription Feed where BONUS audio podcasts are released at least once a month. The Movie Podcast Network will be hosting its MPN 2017 MeetUp in Salt Lake City, Utah, on October 14, 2017. If you have any questions or feedback for the Movie Podcast Network, please email: contact@moviepodcastnetwork.com. Thanks for listening!